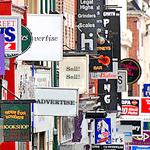 Who subscribes to The Way?
Thoughtful people everywhere
Clergy and pastoral ministers
Pastoral counsellors
People making retreats and their guides
Seminaries, colleges and universities
Church institutions
What might it be good to advertise in The Way?
Retreat programmes
Conferences and Workshops
University courses in spirituality

Books and resources on prayer
Resources on psychology and spirituality
Sabbatical programmes

What kinds of advertisement does The Way carry?

Advertisements in the journal £60 + VAT ($110 US)
Inserts £90 + VAT for printing and insertion or £40 + VAT for pre-printed material up to 10 grams per insert.


There is a discount of 10% for four consecutive orders in advance, payable following the insertion of the first. Advertising space is limited, and requests will be honoured on a first come, first served basis. For terms on printing inserts and other special needs, please contact the Editor.
How to send your material
Deadlines
for January publication
for April publication
November 1
February 1
for July publication
for October publication
May 1
August 1
Advertisements

Please supply a file in PDF or Microsoft Word, with page size 240 x 172 mm, by the deadline date.

Inserts

Please contact the assistant editor by the deadline date.

Enquiries to

The Way, Campion Hall, Oxford, OX1 1QS
44/0 1865 286117 (voice and fax)
E-mail: the.way@campion.ox.ac.uk