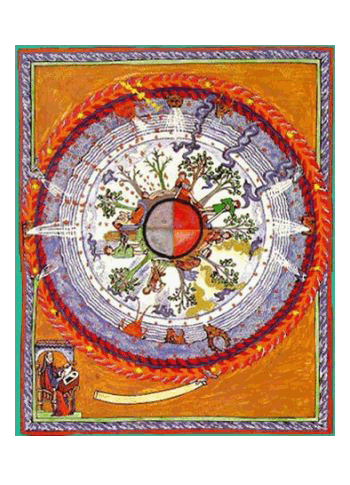 Illustration from an early thirteenth-century manuscript of Liber divinorum operum by Hildegard of Bingen
Christopher Chapman, on images of spiritual growth.
Meredith Secomb, on understanding our inner light.
Joanna Farrugia, on St Teresa of Jesus and mental prayer.
José A. García, on the ecological contrribution of Ignatian spirituality.
George B. Wilson, on parents, their children and the Church.
Michelle Jones, on the Trinity in the thought of Ruth Burrows.
Edel McClean, on the life of Pierre Favre.
Rolphy Pinto, on transcendence and immanence in Ignatian spirituality.
Brenda Timmer, on Godly Play and Ignatian spirituality.
Eric Jensen, on contemplating hell and the parable of the Prodigal Son.
To see the full table of contents, and download a free article, click HERE.
Please click here to subscribe to The Way,
here to order a single copy,
and here for a sample copy.
Subscribers may download the whole of this issue here . You will need your subscriber number; if you have requested an electronic subscription a reminder of this number will have been e-mailed to you. Otherwise please e-mail us to obtain your number.